West Tech Pre-Apprenticeship Registration Open 8/22/23-8/24/23
West Tech PreApprenticeship Trade Class Registration is SET!! This tuition-free program can help those interested in the trades kick start their career by learning the basics! After PreApprentices graduate they can move onto the local Apprenticeship programs. Apprenticeship is where a registered apprentice will work for an employer in the trade of their choice while continuing their education tuition-free which will direct them on a clear career path to higher wages for in-demand skills. Be sure to enroll in your PreApprenticeship program today!
Check out this short informational video to see how the classes work!
ALL interested applicants must register in person on 1 of the dates listed below in order to start classes.
Space is limited and we register on a first-come-first-served basis.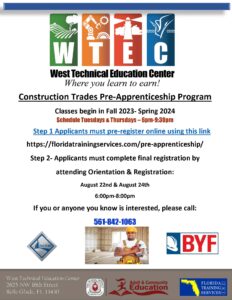 West Tech Registration Dates
Monday, August 22nd  2023 from 6pm-8pm 
Tuesday, August 24th, 2023 from 6m-8pm
Location
West Technical Education Center
2625 NW 16th Street
Belle Glade, FL 33430
Click Here for Registration Flyer